just one of the many things that makes UBI a different kind of bike school experience — for the last seventeen years, we've proudly helped veterans learn the ropes in our training programs, from basic bicycle maintenance to advanced wheelbuilding and suspension overhauls; brazing and TIG welding frame building; and beyond.
Approved to Accept VA Education Benefits
Our VA program began with our students, who requested that UBI get approved to accept VA education benefits. It took a lot of time and effort and paperwork, but on January 1st, 2003, we were officially approved by a State Approving Agency (SAA), The Oregon Higher Education Coordinating Commission, for the education and training of veterans. Wahoo! Which was a fancy way of saying, we were finally allowed to accept Post 9/11 G.I. Bill© and Vocational Rehab credits. And so our VA program began…
What Can Veterans Learn at Bike School?
The short answer is: a heck of a lot. Students in our programs learn basic mechanical fundamentals that will complement their later complex and intricate bike repairs. They learn to weld their own bike frames. They learn basic soft skills and bike shop operations.
And. So. Much. More. At UBI, we see our alumni as family. We love celebrating your victories and helping you learn from your mistakes, our instructors are still available after the class to help you grow your skills beyond our doors. Our students often leave with a new community that will help them in their new adventure.
Our two VA approved programs are Bicycle Mechanics and Bicycle Frame Building. These programs can lead to a comprehensive Certificate in Bicycle Mechanics, and/or a Certificate in Bicycle Frame Building upon successful completion of all the courses in the series.
The Mechanics Program consists of three courses: Introduction to Bicycle Maintenance, Professional Repair and Shop Operation, and the Advanced Certification Seminars.
The Frame Building Program includes four courses: TIG Welding Seminar, Brazed Steel Frame Building, TIG Welded Steel Frame Building, and TIG Welded Titanium Frame Building.
Whether you are a veteran just starting out in the biking world, or a seasoned rider, we have a training program to meet your needs and help you achieve your bike education goals at UBI!
Who Qualifies to Use VA Education Benefits and How to Apply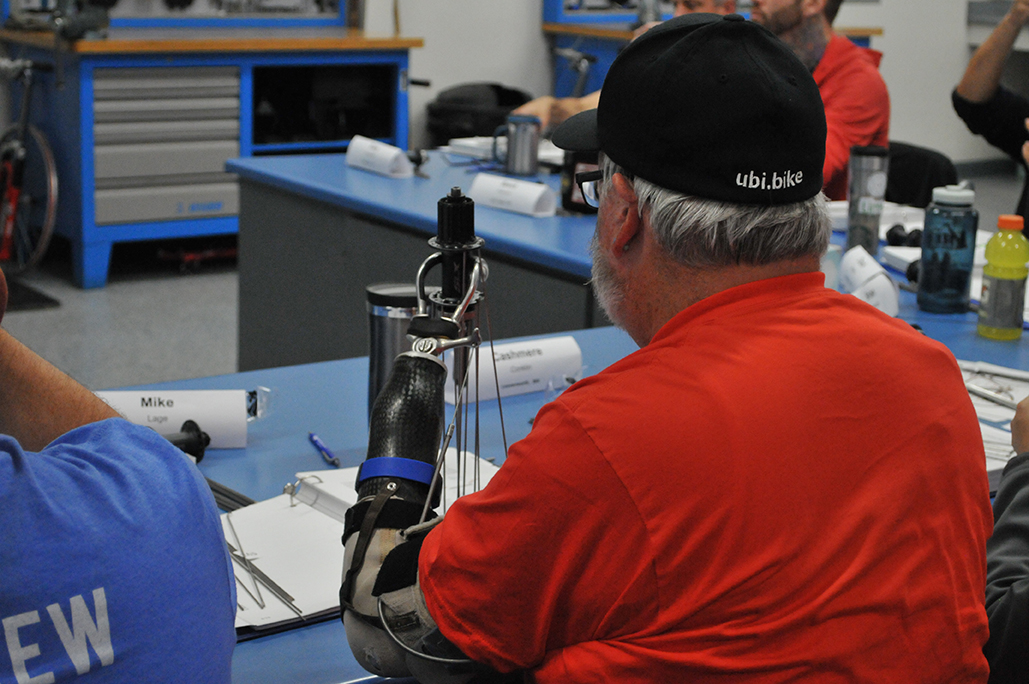 Veterans with education benefits will be able to use their benefits at UBI. To find more about programs you may qualify for, you can access a TON of info at https://www.va.gov/education/
To enroll, all you have to do is submit a completed, signed, enrollment agreement for your first class in either the Mechanics Program or the Frame Building Program.
Depending on your program, the VA may have requirements about your enrollment terms or program requirements. We encourage you to reach out to your contact or counselor at the VA for more details.
And for more nitty gritty about the UBI enrollment process, visit our webpage dedicated to VA students.
Life After UBI
We've proudly helped hundreds of veterans learn new skills and gain confidence on and off the bike, at their home work benches, and in the workplace.
If you are looking to jump-start your career in the bike industry after bike school, we can help with that, too. We have a running job board with current job openings in the industry, across the country.
Once you're ready to learn more about our VA program, visit our website or contact us at 541-488-1121 or [email protected]. We'd love to talk with you about making UBI your next move, and thank you for your service!