This year, scholarships will be available to 32 applicants in the U.S, U.S. territories, and Canada. Individuals who identify as women, transgender, non-binary, gender non-conforming, two-spirit, or intersex individuals are eligible to apply. The chosen recipients will further their education in bike mechanics by attending our Professional Repair and Shop Operations Course in February of 2020.
This scholarship and QBP/UBI partnership was born of the belief that the bicycle industry benefits when it elevates underrepresented communities, and that advancing the career development of gender-diverse bike mechanics will bolster the entire industry and consumers.
What Bike Mechanic Scholarship Students Will Learn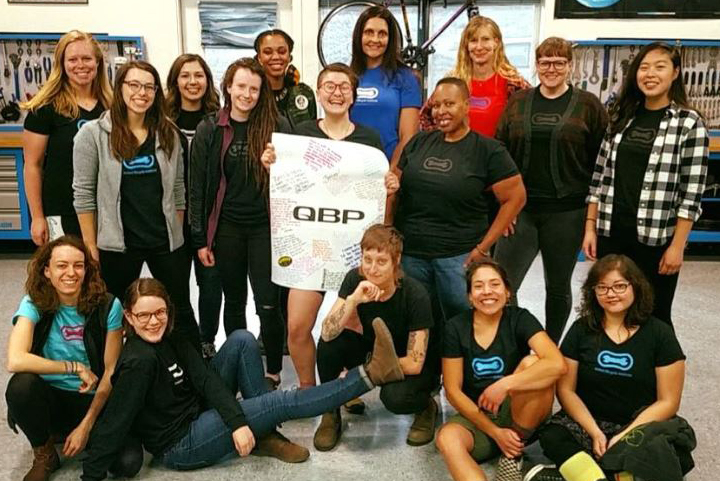 Our Professional Repair and Shop Operations course focuses on the understanding of topics including; loose ball and cartridge bearing inspection, wheel building and repair, hydraulic fundamentals and services, basic suspension overhaul, drivetrain trouble-shooting, service writing, and more. Instructors will also cover shop operations, tool selection, and customer service, giving them a solid foundation for working in a (or starting their own) repair shop.
Scholarship recipients will be awarded full tuition paid by scholarship sponsors, with lodging in Ashland paid for and provided by UBI. Students will also receive a small stipend upon completion of the class, to help offset travel and meal expenses.
At graduation, students will have an opportunity to earn multiple certificates from UBI as a Certified Bike Technician, internationally recognized as an industry standard in education.
Scholarship Requirements
Applicants must be currently employed by a bike shop in the U.S. or Canada, and available to attend our winter class, February 17–28, 2020. Those with current volunteer, training, or intern positions are also encouraged to apply.
Interested? You can apply now through November 1st at https://www.qbp.com/qbp-bike-mechanic-scholarship. Winners of this year's scholarships will be announced in early January 2020.
This scholarship is possible thanks to additional support from SRAM, Park Tool, BBI, WTB, Dero, DT Swiss, Bosch, Kryptonite, Swiftwick, Rock-N-Roll, Effetto Mariposa, Kenda, HED, Problem Solvers, Nutcase, Fulcrum, and Juliana. To them all, we say…THANK YOU!
And we look forward to meeting this year's QBP Bike Mechanic Scholarship recipients at UBI in February 2020!