When you register at UBI, your tuition includes practice materials, manuals, handouts, study materials, and use of the UBI facilities and tools during your time in the classroom (and then some!). That doesn't mean you won't also want to bring along some extra carry-ons for extracurricular activities.
Here's our go-to list of bike school essentials to bring with you to UBI.
Your Bike
Take advantage of your time in the classroom to give your own bike a tune-up, facelift, or overhaul during select mechanic sessions, or any Tuesday and Thursday evening shop sessions.
To make traveling (via car or plane) easier for you, you can ship your bike to us. We receive shipments daily from UPS and FedEx, and we'll hold it here for you until you arrive (learn more about shipping your bike on our Ship Your Bike page).
If you have no way to bring your bike with you, have no fear. We have bikes you can practice on, and there are plenty of local bike shops that offer hourly, daily, or seasonal rentals.
Shop Attire
You will be working and learning in a shop environment, so pack comfortable, casual clothes and shoes. No open-toed shoes are allowed in the classroom, but we recommend them for warm-weather lounging around Ashland in your non-class time.
UBI will provide shop aprons, gloves, and protective eyewear when needed, but you're welcome to bring your own if you have faves.
Your Camera
Most backdrops in Ashland look like they came straight out of a postcard, for reals. We're surrounded by mountains, the famous Lithia Park, and the deer that roam the streets (and yards and sidewalks and crosswalks and lawn in front of UBI…aka, everywhere).
Not to mention all the cool props we have in class (inside of a fork damper, or a clear disc brake setup) to show you how things work! Everyone loves a good cutaway!
Make room on your phone for photos of your time exploring — you'll be happy you did. And if you have a high quality professional camera, bring it along!
Your Gear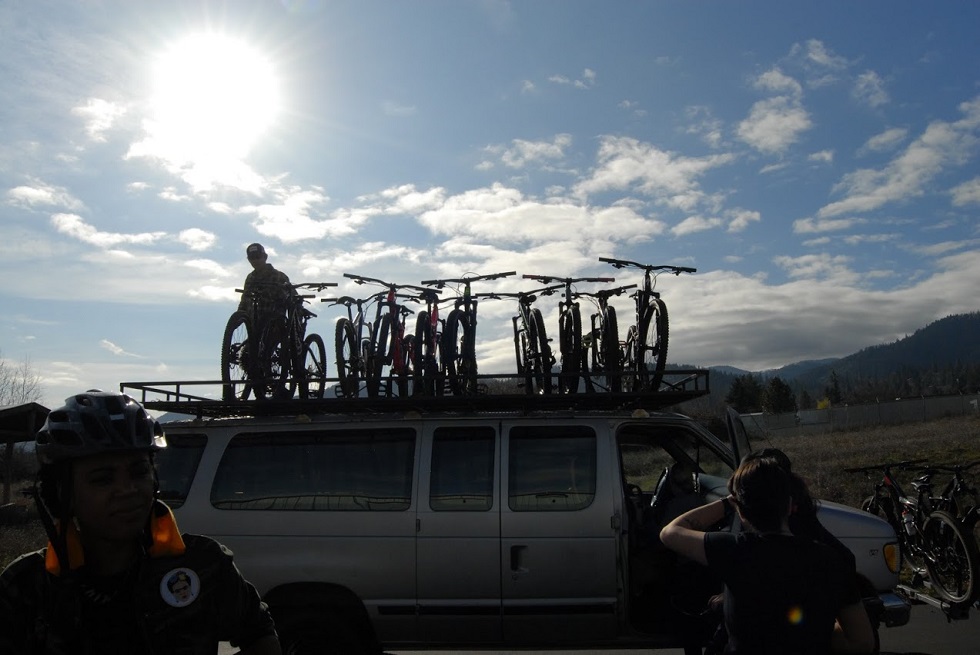 The Ashland Watershed system boasts 28 trails, totaling 47 miles with 15,000 feet of descent. Those stats don't lie — our backyard has superb mountain biking! Pack your helmet, pads, gloves, and whatever else gets you going for epic after-school group rides.
Short on time? Catch a ride with Ashland Mountain Adventures to the top, and then cruise back down into town!
And since much of our surrounding hills are covered in snow December – March, you may want to bring gear to ski or board instead during winter classes. For the road bikers, Southern Oregon boasts miles and miles of scenic rural roads and paths for you to cruise year-round.
Your Appetite
Beers, burritos, and bikes…it doesn't get much better than that. After a day of wheel lacing or frame building (or bombing down Time Warp), unwind with an Oregon craft beer at one of the many local tap houses. And with over 100 restaurants in Ashland, your food options are endless. From vegan cafes to by-the-slice pizza counters, you'll have plenty of opportunities to find your new favorite bike school grub.
Your Beverage Mug
Coffee: the life-blood of bike school! Bring your own mug and save on one-time-use cups.
Ashland boasts at least three 3rd wave coffee houses within walking/riding distance of school, plus lots of locations with blended drinks, regular old coffee, and yummy pastries. The trip home from bike school can get long without your favorite cuppa joe! In the classroom, we have tea and hot cocoa, too, plus reusable ceramic mugs just in case you forget your mug.
Pro tip: Stop by the Ashland Food Co-op before or after class for a fresh cup AND a discount when you bring your own mug.
Your Thirst
We give all students a water bottle (at no charge) for each class they attend. We want you hydrated and with-it in the classroom! The tap water in Ashland is AMAZING and you may just want to bottle some up and take it home with you, too.
Or – even better – take a day trip up to Tub Springs (about 35 minute drive) and fill your bottle from the natural spring on the side of the Green Springs Highway.
Your Computer (or Notepad If You're Old School)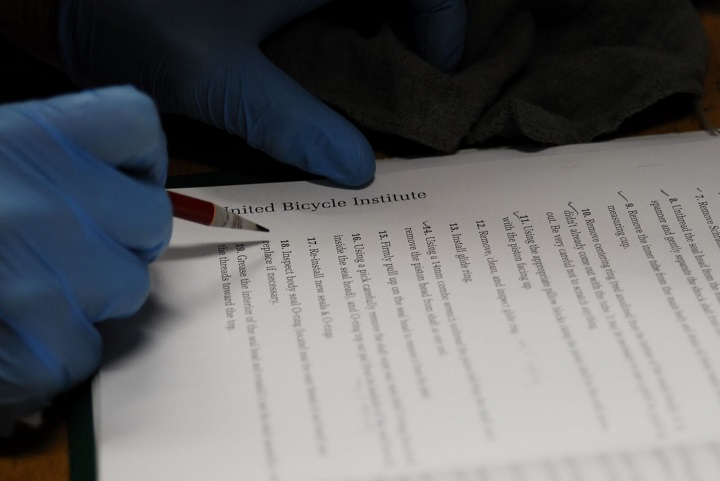 Studies have shown the act of taking notes helps you retain the knowledge (not mention they act as a GREAT reference once you leave).
The vast majority of your bike school experience is hands-on, BUT that doesn't mean a computer won't come handy for research and note-taking. You can fact-check your instructor (they love that), or browse tools you want to buy while in attendance at UBI and post-graduation with your UBI discount in your off-time.
We also love good ol' pen and paper. It's super handy for quick notes when our instructors are dropping all kinds of knowledge-bombs. And a highlighter, post-it-notes, or page markers are also useful for making notes in your class manuals to come back to later.
Your Insatiable Appetite to Talk Bikes
We are all bike nerds here; you heard us. Bring it!