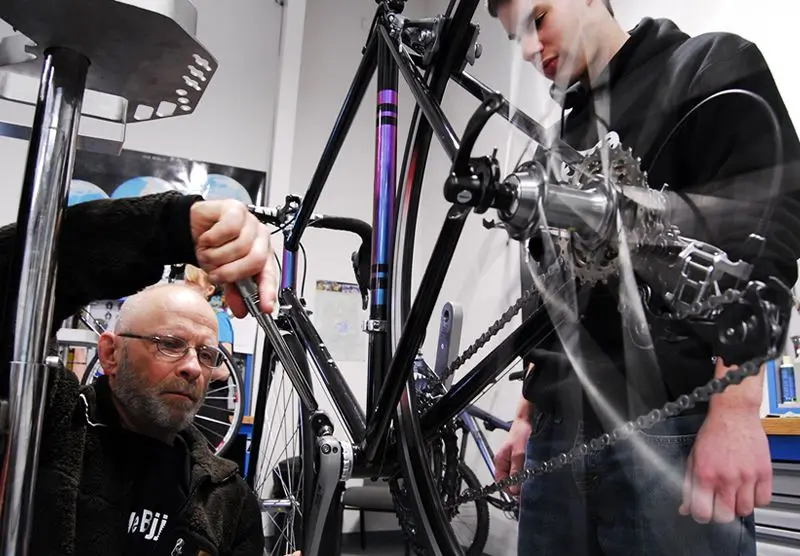 Who Will Benefit:
Beginner Mechanics
Career Oriented Mechanics
Those Seeking Industry Certification
---
Prerequisites:
None.
---
What You'll Learn:
This is a comprehensive two week professional level course for students with limited bike shop experience. The goal of the class is to prepare students to work in a bicycle shop, or to perform professional level service at home. Great emphasis is placed on hands-on learning of all the component systems of the bicycle, as well as a study of the bicycle as a complete unit. The information presented is applicable to all types of bicycles. This course also provides a solid foundation on service department operations to understand and improve existing services or for those seeking to start their own business.
---
Some of the Mechanic Topics We Cover Include:
Repair Stand Use
Component Standards
Measuring Tools
Thread Specifications
Torque
Safety & Liability
Solvent & Lubricant Use
Bearing Theory
Bearing Inspection & Assessment
Conventional Bearings
Cartridge Bearings
Hub & Axle Sets
Crank Sets
Handlebars
Stems
Frame Preparation
Frame Construction
Frame Alignment
Basic Bicycle Fit
Frame Materials
Cutting Tools
Shop Tools
Bottom Brackets
Caliper and Linear Pull Brake Systems
Mechanical Disc Brake Systems
Hydraulic Brake Systems
Saddles & Seatposts
Chains
Wheel Building/Repair
Wheel Lacing
Wheel Tensioning
Wheel Truing
Headsets
Derailleur System Set-up
Derailleur System Troubleshooting
Derailleur Cable & Housing
Tube & Tire Repair
Tire/Rim Compatibility
Pedals
Chainline
Gearing
Freewheels & Freehubs
Basic Suspension Service and Setup
---
Some of the Shop Operation Topics Covered Include: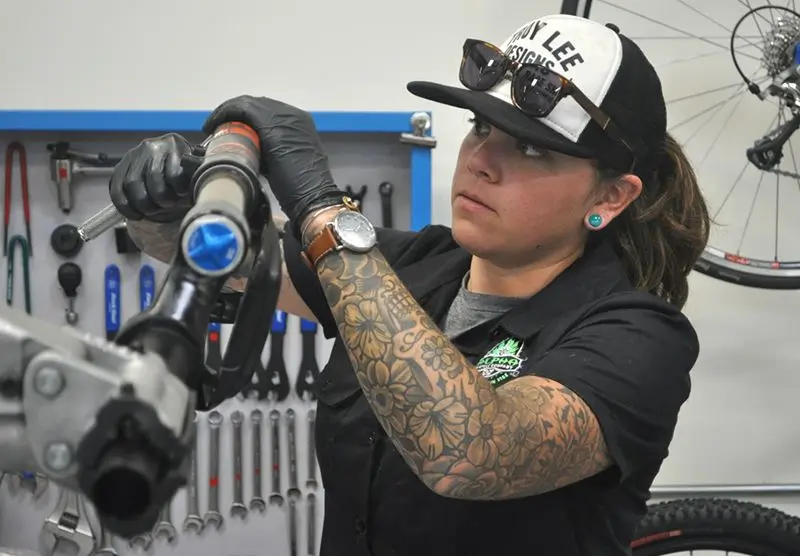 Employment Opportunities
Starting a Small Repair Shop
Start-Up Costs
Tool Selection
Service Department Operation
Customer Service
Service Writing
Labor Rates
Sources of Supply
Establishing Accounts
---
Tuition Information
The tuition cost for the two week Professional Repair and Shop Operation course is $2,350 plus a $150 registration fee is required with your signed class application.
---
Special Advanced Seminar Discounts Apply if Taking This Class!
Join the hundreds of previous students who have taken advantage of a great offer. We are presently offering an additional $100 discount off the Advanced Mechanics Week if you sign up for both the Professional Repair and Shop Operation Course and the Advanced Mechanic Seminar Week consecutively. This discount is in addition to our standard discount of $100 off our Advanced Mechanic Seminar Week if you take all three seminars. That's a total savings of $200 off the Advanced Course, plus you can save on travel expenses by taking them both at once!
---
Class Schedule & Registration: