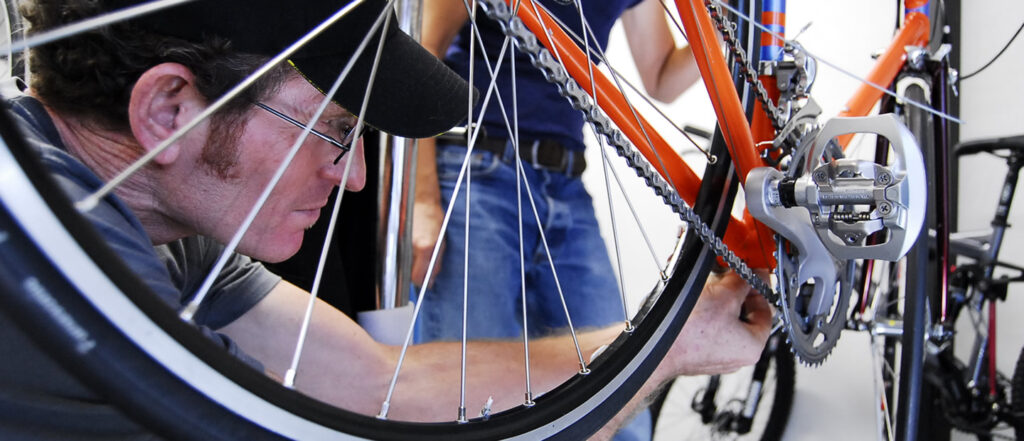 At United Bicycle Institute, we offer the most diverse bike curriculum in the world. Since 1981, we've offered bicycle mechanics courses in one and two week sessions and since 1991, we've offered custom frame building courses, enabling graduates to connect with industry leaders and job boards, as well as earn a post-secondary certificate. We've hosted students from over 45 countries, and help educate veterans through our VA benefits program.
What Makes Us Different
From our ultra-experienced faculty to our unbeatable location in Southern Oregon, there's nowhere else to get a bike education quite like UBI.
We've been on the leading edge of mechanics, frame building, shop operations and more for over 35 years, meaning your time at UBI puts you at the forefront of industry knowledge and methods. Nowhere else can you get the same student-teach ratio, the same one-on-one guidance, or the same certifications that will follow you throughout your bike maintenance career.
What makes our programs stand out from the rest?
A 6-to-1 ratio of students to teachers
200 years combined instructor experience in the bicycle industry
Access to United Bicycle Supply (next door to campus)
Awesome local rides
Late night open shop sessions with UBI instructors
Easy and fast online registration
No hidden fees — study materials and manuals are included in tuition costs
Continuing education classes available
VA student programs
Want to Learn More?
Whether you're looking to get hired within the bicycle industry, expand your own personal knowledge and growth, or meet liability insurance requirements, we have classes and specialty sessions filled with a diverse mix of students in your same shoes. Request a brochure (or save a tree and download it online!), or give us a call with your questions. Our UBI staff is here to help you get squared away and into the classroom!